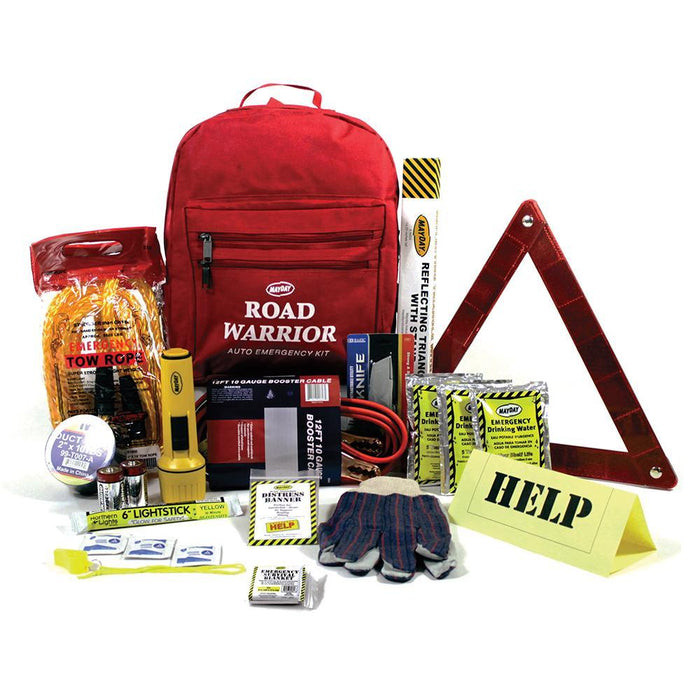 Mayday Basic Road Warrior Emergency Roadside Vehicle Safety Kit
Sold out
Original price
$0.00
-
Original price
$0.00
Breaking down and being stuck on the side of the road will ruin anyone's day.  Experiencing an emergency situation on top of it makes a bad day turn worse.  Being prepared for the unexpected with an emergency kit will give you the tools you need to face and survive most roadside emergencies.  
This kit is ideal to keep in your car, SUV, truck, RV, company fleet vehicles, and has everything you may need for long road trips or daily driving. This kit is an ideal gift for fathers, husbands, women, moms, wives, fiancé, teens, college students, daughters, sons, nieces, nephews, granddaughters & grandsons.
All items are packed in a heavy-duty backpack.
Weight 8 lbs. Kit Contains:
1 – Backpack
1 – 30-Minute-High-Intensity Light Stick
1 – Tow Rope
1 – Jumper Cables
1 – Flashlights
2 – D Batteries
1 – Solar Blanket
1 – Waterproof Poncho
1 – 3 pouches of Mayday Water
1 – Leather Gloves
1 – Whistle
1 – Duct Tape
1 – Utility Tool
1 – Emergency Instructions and Help Sign
1 – 3 x Wet Naps
1 – Reflecting Triangle
1 – Distress Banner