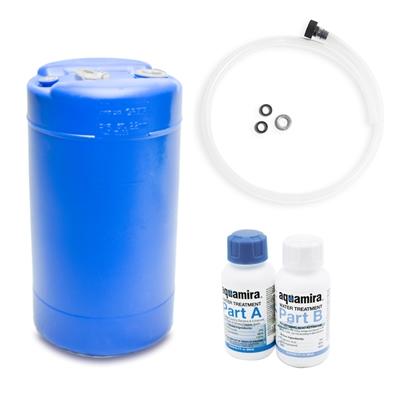 15 Gallon Water Tank and Treatment Set
Sold out
Original price
$119.99
-
Original price
$119.99
You are in the middle of a natural disaster. There is no access to water. What do you do? Don't be wishing you were better prepared. A 15-gallon water storage tank could be the thing that saves your life.
Features
This DURABLE water storage tank is BPA FREE and made of FOOD GRADE plastic.
During disasters, it isn't uncommon to be on the move. This 15-gallon water storage tank is PORTABLE. When it is filled it only weighs 130 lbs. It is 27" tall, and 15" in diameter. This makes it large enough for basic water needs but also keeps it portable.
What is the point of a tank that isn't reusable? No worries, here. Feel free to REUSE this tank over and over again.
Harmful bacteria can grow in water tanks. This is why our water tank is a dark blue color. This helps restrict the light, which decreases the odds of harmful bacteria
To make filling your storage tank easier, the Aquamira treatment set is also available. Aquamira will help keep your water SAFE and CLEAN for up to 5 years. The filling hose and faucet adapters SIMPLIFY the process by allowing you to use any at-home faucet.
A water storage tank is something you need to be able to count on. With this tank, you can be assured that it is
BPA FREE
Food Grade Plastic
Durable
Portable
You need a water storage tank you can trust, so go with Emergency Zone.
Technical Specs
Aquamira
Filling hose
Faucet adapters
15 gallon BPA FREE water storage tank