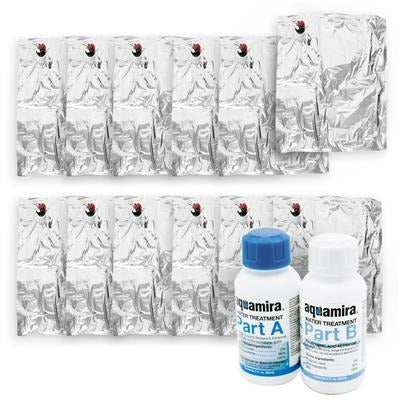 60 Gallon Water Storage Refill Set
Original price
$64.99
-
Original price
$64.99
Refill Your Long-Term Water Storage Set with this Kit. It comes with 12x 5-gallon water bags and 1x Aquamira which can treat up to 60 gallons!
Shelf Life and Reliability: Shelf life is important. When Aquamira water treatment is used, the 60 gallons can have a shelf life of up to 5 years! Pesky slime builds up in storage containers and can cause a lot of issues if a disaster strikes. Aquamira helps prevent slime build-up, leading to a more RELIABLE way to store your water.
Strength: Bleach and iodine are common oxidants to use when treating water, but Aquamira is a STRONGER oxidant. It has a greater pathogen-killing power, which helps ensure safer drinking water.
Quality Taste: Sometimes stored water can develop a funny taste, with Aquamira that is no longer an issue. It not only ENHANCES the TASTE of the stored water, but it also kills bacteria that cause odor.
Multilayer-Laminated Mylar Bags: The mylar bags are multilayer-laminated.
A strong seal that stops harmful bacteria from getting in 
Leakproof
Durable
Puncture-resistant
Tear-resistant
Contents:
12x Multilayer-Laminated Mylar Bags
1x Aquamira Treatment Chemicals