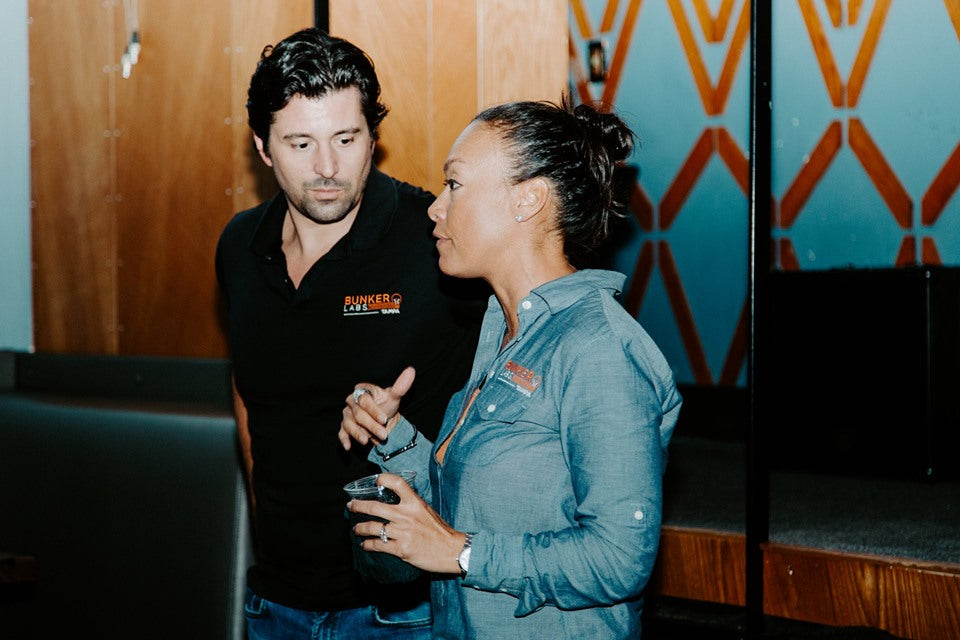 Luminary's CEO, Valerie Lavin has taken on a new role as a volunteer City Leader for Bunker Labs.
Luminary's CEO, Valerie Lavin has taken on a new role as a volunteer City Leader for Bunker Labs. Read about how she discovered her path to entrepreneurship after retiring from the Army. Watch Valerie on Bay News 9 today at noon to learn more about the entrepreneurship ecosystem in Tampa Bay and get your tickets now for the Bunker Labs Tampa Chapter Launch Party tomorrow.
Read the original article at Bunker Labs  
Ask anyone about the best entrepreneurial cities in America and you'll likely hear a roster of the same places. Silicon Valley, Denver, the hot startup atmosphere in Austin — but soon you might hear Tampa Bay, FL join the ranks. The rich entrepreneurial ecosystem in Tampa has been a hidden gem for a while now, but Tampa's City Leader Valerie Lavin is determined to change that.
Lavin is a retired U.S. Army First Sergeant with an impressive 21-year career as an intelligence professional. She was born in Saigon but grew up in Missouri and surprised her entire family when during a semester off from college, she made the decision to join the Army while watching Private Benjamin. 
"Not that I was so naive to think the Army was like the movie I was watching, I simply felt compelled to enlist. To the surprise of everyone who knew me then, I was off to the Army in April 1993 as a Private Second Class."
Lavin didn't start her own company until retiring from the army, but she got her first taste of entrepreneurship from her father growing up. Considering her success now, you might be surprised to hear that the idea of being a business owner was less than exciting to her at first.
"Watching [my father] run his own business… I had no desire to be an entrepreneur. I saw how hard he worked and how he always had to be married to his phone, which ended up disrupting many family vacations. Little did I know, entrepreneurship was in my DNA."
Lavin started her first company Veterans 2 Corporate (V2C) shortly after she left the army. Inspired by the stories of fellow veterans struggling to find work after leaving the service, she founded V2C to help bridge the gap between the two worlds. Simultaneously, Lavin took on a role as a program manager for an entrepreneurship education program that was funded through a Veterans Florida grant. It was in this position where she found her passion for helping veterans reach their goals as small business owners. Realizing that her expertise was better utilized in entrepreneurship education, she dissolved V2C and devoted herself to the program full-time.
The experience gained during this time became the inspiration for Action Zone, a nonprofit Lavin co-founded that provides entrepreneurship education to veterans and military spouse entrepreneurs. Lavin's observations working in the sector provided two key insights that helped make Action Zone so successful. Entrepreneurs need to teach entrepreneurs and entrepreneurs generally like to learn in a non-academic environment.
Lavin is now the CEO of her company Luminary Global which she operates with her husband. In the beginning, Luminary was designed to provide training, recruiting, and consulting services within the government contracting sector. After a series of turns, Lavin saw an opportunity to tackle her long-term strategic goal of creating a product offering through Luminary to diversify revenue streams and succeeded. Today, Luminary provides superior pre-hospital products and emergency preparedness supplies to military, first responders and citizens who are the lifeline between preventable death and hospital care.
When asked what lessons best translated from the military to being a business owner, Lavin offered this insight.
"Wisdom that comes from those experiences and age are boundless in what I do now, but I think the three I tap the most are: mental agility, compartmentalization, and diversity awareness. I wear many professional hats, CEO, instructor, advisor, volunteer, student. My ability to be mentally present from one role to the next is critical… Being able to compartmentalize emotions is key as a founder of a startup. As a founder you are so passionate about your business, sometimes emotions lead decisions and that can be cause for some challenges…I contribute my ability to integrate into any social environment and bring an eclectic group of people together to the diversity of the military. Having to lead groups of people [with] diverse backgrounds taught me to look at situations through other's eyes, tap into those differences to aid them in performing at their best, and bring people together for a common goal."
Lavin is now the City Leader of Bunker Labs Tampa and a big reason the chapter was started to begin with. After starting Action Zone, Lavin saw the parallels between the two nonprofits. She reached out to inquire about starting a chapter in Tampa Bay and after seeing the impressive growth of Action Zone and the entrepreneurial ecosystem in the region, Bunker Labs Tampa was born.