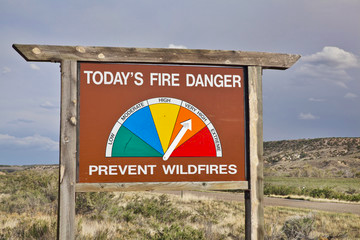 Preparing While Apart (Wildfire Preparedness)
Saturday, May 2, 2020, is Wildfire Community Preparedness Day.
Amidst all the chaos of COVID-19, it is sometimes difficult to think about preparing for other potential disasters, but this is the very time to plan. Each year, communities around the nation gather together to do projects that help prepare for the upcoming wildfire season. This year we can encourage each other from a distance while still doing our part.
In the last two years, we have lost over 100 lives and over $25 billion in property damage to wildfires. The National Fire Protection Association encourages us to Check, Clear, and Communicate.
CHECK
Make sure your home address is visible from the street so emergency responders can 

find you.

Map out at least two alternative routes to evacuate your home.

Make sure any woodpiles or debris are no closer than 30 feet to your home.

Take inventory of your possessions. Photograph or video the contents of your home for 

your insurance company.

Check on your elderly neighbors. Make sure they have a plan in place.

       
CLEAR
Clear any leaves or debris from around the house. Make sure there is at least a 30-foot 

distance around the house that is clear.

Sweep porches and rake under decks.

Prune trees up to 4 feet from the ground with no low hanging branches.

Remove all items from under the porch or deck and never store gasoline or propane tanks in or around the house.
COMMUNICATE
Discuss an evacuation plan with your family and have a 72-hour evacuation kit ready 

for all family members and pets.

Help educate your community by handing out flyers or wildfire safety materials around 

your town.

Let others know you are preparing via social media and encourage them to do the 

same.

Register you and your family's cell phone numbers with the Office of Emergency 

Management to receive text alerts.

Go over any emergency evacuation plans with babysitters or housesitters.

Develop a phone tree with neighbors to keep everyone informed and safe.
This may not be the time to gather task forces and take on the larger projects with your community, but if each of us do our part and help our neighbors who are unable, then we can still honor this day of Wildfire Preparedness together while apart.
Luminary has curated custom Bleeding Control Kits specifically for wildland firefighters, sawyers, and field going staff. These kits arm you with essential items to stop a major bleed or assist with a trauma event.
If you have any questions or to place an order, contact Luminary at 727-230-9112.
"The greatness of a community is most accurately measured by the compassionate actions of its members." - Coretta Scott King