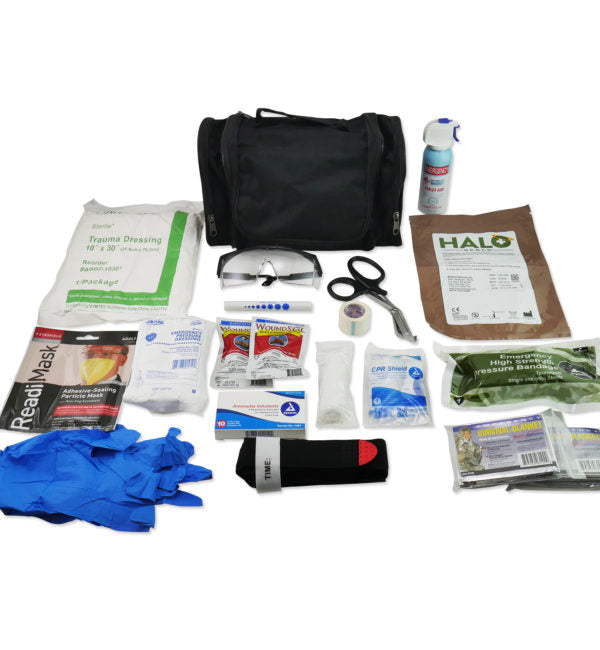 Mayday Bleeding Control Trauma Response Kit
Original price
$169.99
-
Original price
$169.99
Unfortunately, active shooter situations are becoming ever more prevalent in today's society. Being prepared, trained, and having the right supplies on site is critical to preserving life until first responders can arrive.

The Bleeding Control Trauma Response Kit is designed to provide the necessary supplies to render first aid quickly in the event of an Active Shooter situation.
This easy-to-carry tote contains a range of critical medical supplies to respond to a bleed control situation. Ideal for classrooms, office desks, in response vehicles, or throughout the campus'. Be ready to respond with the Active Shooter Bleeding Control Trauma Response Kit.
Contains critical medical supplies for a bleed control situation
Easy-to-carry tote
All contents are organized in a fold-out tote with clear pockets for quick deployment
Contents - Weight 2.15 lbs
(2) Rapid Response Wound Seal
(1) Ammonia Inhalants
(1) CPR Mouthpiece
(4) 10" Nitrile Glove
(1) Safety Glasses
(1) Readi Mask
(1) One Hand Tactical Tourniquet
(1) Penlight
(1) Multi-Trauma Dressing
(1) Bio Med Wash
(1) Emergency Pressure Dressing
(1) 4" x 4.1 yds Roll Gauze
(1) EMT Paramedic Shears
(1) Emergency High-Strength Pressure Bandage, 4"
(1) Adhesive Medical Tape
(2) Emergency Survival Blanket
(1) Curaplex Select HALO Seal, 6.5" x 5.5", 2 Pack (Includes 1 Vented Seal and 1 Non-Vented Seal)