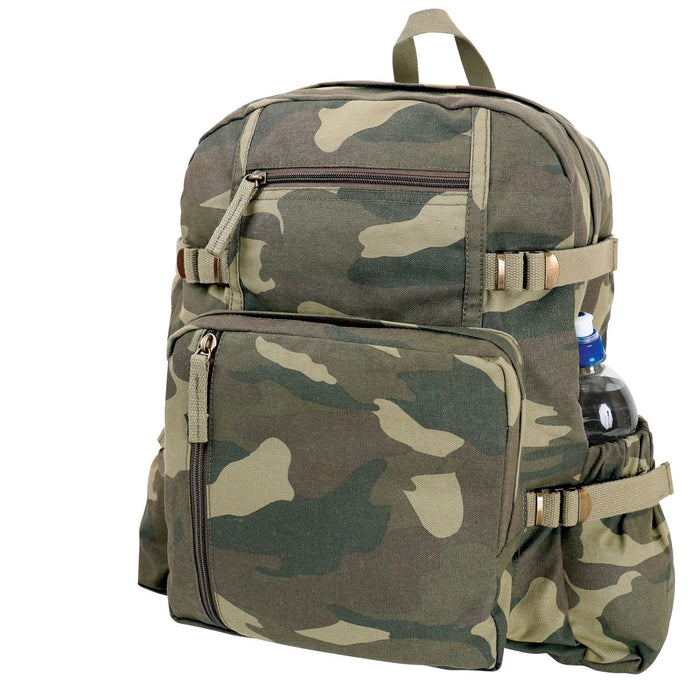 Rothco Jumbo Vintage Canvas Backpack
Original price
$0.00
-
Original price
$0.00
Seeking a sturdy, pragmatic, and reliable military-inspired backpack for your daily essentials? Look no further than our Jumbo Vintage Canvas Backpack. Offering ample storage space with a 28L capacity, this canvas bag measures 18" x 13.5" x 7" in dimensions. The main zipper compartment is perfect for accommodating a laptop, books, folders, and other items you carry every day.
IDEAL FOR EVERYDAY USE & TRAVEL: The Jumbo Vintage Canvas Backpack offers generous storage to suit various needs, measuring 18" x 13.5" x 7" with a 28L capacity.
ROBUST MATERIAL BUILD: Crafted from heavy-duty cotton canvas, these backpacks are built to endure constant use.
STURDY HARDWARE: Enhanced with metal accessories and leather zipper pulls (webbed straps for woodland camo), providing added strength while evoking a timeless appearance.
AMPLE STORAGE SPACE: Featuring three extra zipper compartments, these military backpacks offer optimal organization. The middle compartments are excellent for laptop accessories, while the top pocket is convenient for small items and headphones.
ENHANCED COMFORT: The laptop bag is equipped with padded back support and shoulder straps for a more comfortable carry. The shoulder straps are adjustable, allowing you to customize the fit.
ADDITIONAL FEATURES: The backpack includes a built-in top grab handle for quick and easy handling. The two elastic side pouches are ideal for carrying water bottles, and each side features an upper hold-down strap for securing longer items.
PREMIUM CANVAS MATERIAL: Made from Rothco's rugged heavyweight canvas fabric, this top-tier material is naturally water-resistant and built to last. Rothco's collection of ultra-premium canvas bags and packs is unmatched in quality.