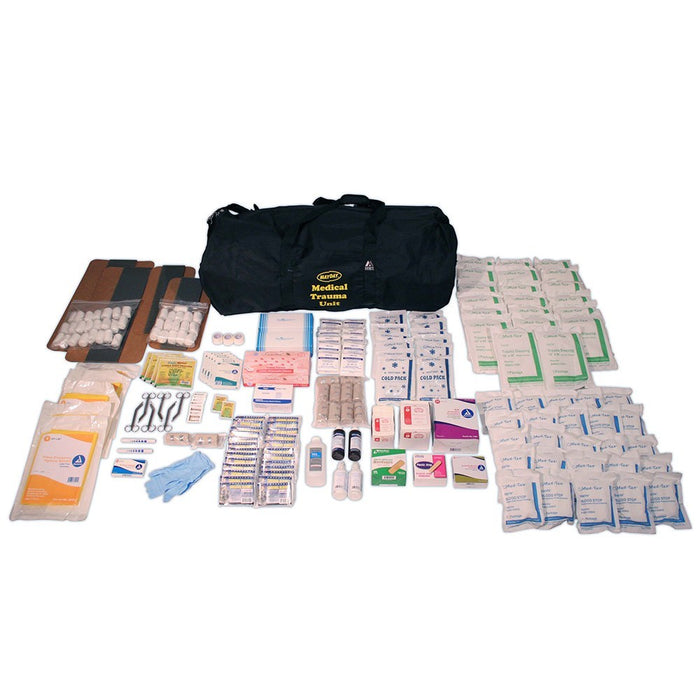 Mayday Multiperson Trauma Medical Unit - 100 Person
Original price
$844.33
-
Original price
$844.33
Unfortunately, emergency situations are becoming ever more prevalent in today's society. Being prepared, trained, and having the right supplies on site is critical to preserving life until first responders can arrive.
The Multiperson Trauma Medical Unit - 100 Person is designed to provide the necessary supplies to render first aid quickly in the event of an emergency.  Ideal for workplaces, offices, construction sites, and event arenas.
This mass casualty system is ideal for offices, buildings, and venues where large groups of people gather. Easily accessible and stocked with supplies for up to 100 people in the event of disasters and active shooter situations.
Weight 40 lbs Contents
• 100- Adhesive Bandage 1"x3"
• 100- 2"x2" Gauze Pads
• 24- 2'x4" Non-Sterile
• 100- 3/4"x3" Plastic Bandage
• 10- ACE Bandage 3'x4.5 Yards
• 15- 1"x10 Yards Surgical Adhesive Bandage
• 1- Ammonia Inhalants, Box of 10
• 100- Antiseptic Towelettes
• 4- Bandage Scissors
• 1- Alcohol Isopropyl 16 oz
• 2- Doctor's Penlight
• 25- Blood Stopper Trauma Dressing
• 2- Hydrogen Peroxide 4 oz
• 25- Mayday Solar Blanket
• 5- Paramedic Blanket
• 100- Nitrile Gloves
• 2- Burn Care Kit
• 12- Instant Ice Pack 6 x 9 Bag
• 2- Cervical Collar
• 2- Splint Kit (1-18 &24 + Gauze & Pins)
• 20- Multi Trauma Dressing 12 x 30
• 10- Triangle Bandage 38 x 52
• 1- Body Bag
• 1- Large Butterfly Bandages (100 Count)
• 1- 3 x 3 Sterile Gauze Pads (100 Count)
• 2- Eye Wash (4 ounces)
• 1- Packed in a Duffel Bag (Trauma Medical Unit)