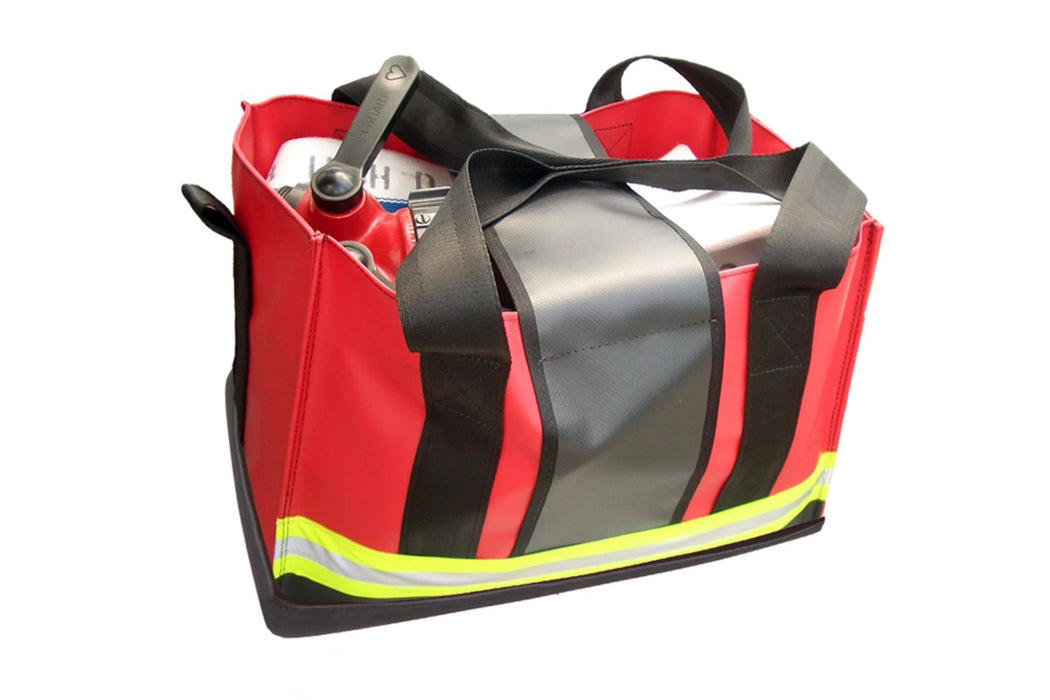 R&B Milwaukee Strap Hose & Accessory Bag 75ft Capacity
Original price
$0.00
-
Original price
$0.00
Milwaukee Strap Hose & Accessory Bag
Constructed with firefighters in mind, Made of durable 22 oz. reinforced vinyl. Constructed with double thickness inside, bottom and ends. The molded Tuff Bottom provides an almost indestructible base. Easily carried using the 2" nylon webbing handle. For on-scene visibility, there is a 2" reflective side trim.
This bag can hold 75 ft. of 1½" or 1¾" hose and accessories making it ideal for standpipe connections, hose operations as a tool bag. A brass grommet is provided to allow water drainage and a Velcro strap secures the contents. Loops have been placed on each end for an optional shoulder strap.
MPN: #M/S AB
Dimensions: 17" long x 10" wide x 12" high.
Weight. 18 oz.
Made in the USA.
Contents not included.
What Is A TUFF BOTTOM? 
A Tuff Bottom is a heated, compressed and molded sheet of high-density cross-link polyethylene foam - you might also know it as the stuff they make your shoe soles out of.
One piece molded high-density construction
Super durable and resistant to wear
Resistant to Petrochemicals and UV rays
Will not absorb liquids
Temperature range of -60°f to 175°f
How do you test a TUFF BOTTOM?
We started this process by contacting several testing laboratories and found that the cost to test was pretty outrageous and the terms used to describe the testing process was like reading a foreign language.
So after being discouraged with my initial test research, I got a brilliant idea. I figured there is nothing better than a real-world test to prove whether or not these new Tuff Bottoms could hold up in the field. What did I have in mind for a "real world test"? The first step was to fill the bag with 20 pounds of stone. Then I took a tow strap and attached the bag to the back of my H1 Hummer. So away I went; dragging the bag down the road behind me. I decided I better cover all the bases, so I made sure to drag the bag over asphalt, concrete and even gravel roads. Oh, these weren't freshly paved roads, but rather your typical Ohio back roads that are filled with potholes, cracks and fresh tar. I started off at about 20 miles per hour. To my amazement, the bag just kept sliding right along behind me. After about 10 miles of abuse, I got bored and decided to give the new Tuff Bottom the "real world test stamp of approval." The bottom line is the R&B Tuff Bottom is truly rugged. It's designed to take a beating and ask for more. So, next time you are looking for the most durable bag you can get your hands on, look for an R&B Tuff Bottom Bag! You won't be disappointed in your decision.

Ron Eakins
Vice- President
R&B Fabrications, Inc.