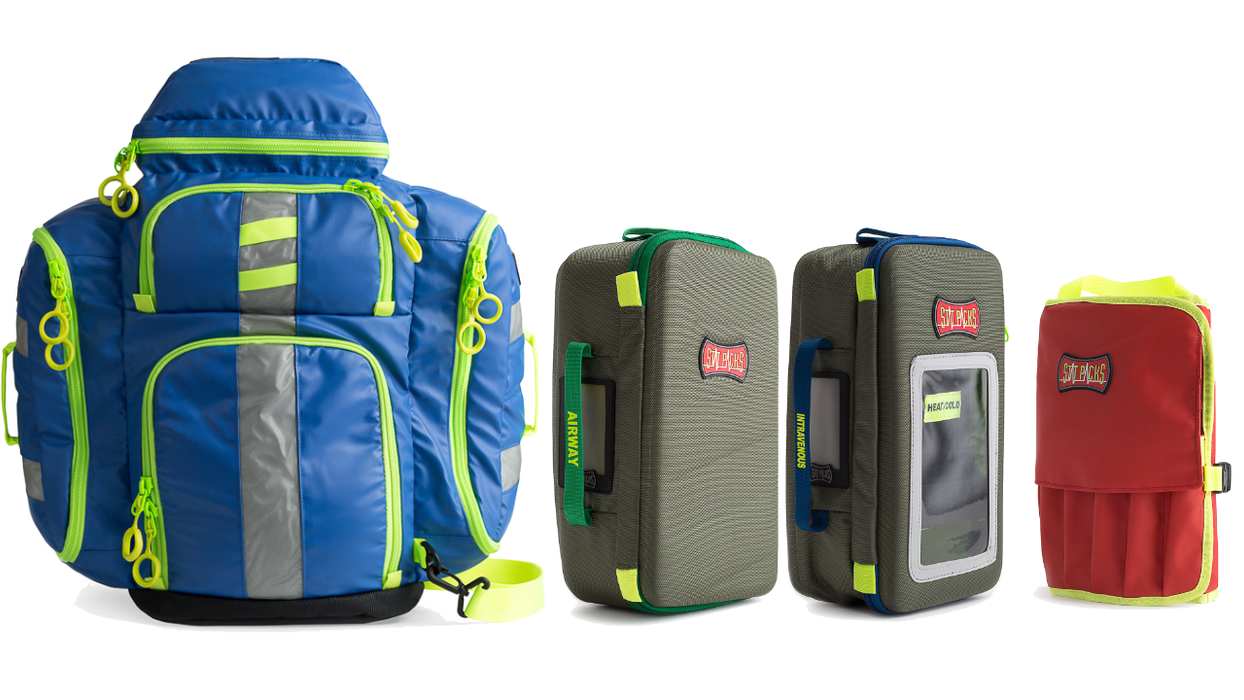 StatPacks G3 Perfusion EMS Bundle
Save

$50.00
Save

$50.00
Original price
$650.00
-
Original price
$650.00
The G3 Perfusion EMS Bundle is a complete system for Emergency Medical Service Professionals.

Specifically designed to hold StatPacks Generation 3 Emergency Medical Services Kits. The bundle includes the following StatPacks Items: Contents pictured are NOT included
G3 Perfusion Bag
G3 Airway Cell
G3 Universal Cell
G3 Circulatory Kit
G3 Perfusion, StatPacks, EMS Backpack
Put simply, the G3 PERFUSION is a great pack for all EMS Clinicians.
Two main compartments and three external pockets allow for superior organization of large amounts of BLS and ALS equipment.
The hybrid design may be worn as a backpack, side sling, or carried by hand. The Perfusion doubles as a fine EMS shoulder bag.
EMS backpack product features:

Unique design allows access to the main compartment from the front of this EMS Backpack
Specifically designed to hold StatPacks Generation 3 Emergency Medical Services Kits; including all StatPacks First Aid QuickRoll intubation, Remedy, and Circulatory kits
Tarpaulin bottom panel for protection from abrasion and the elements
Clear, durable mesh pockets, and elastic holsters keep contents in place and well-organized
Added more durable reflective material that has a protective outer mesh cover that shields it from wear and tear.
This EMS Trauma Bag has a foam molded quad-fold design that helps keep basic and advanced airway adjuncts organized and at your fingertips.
For EMT Intubation; Laryngoscope blades, Oral Pharyngeal Airways, and Nasal Pharyngeal Airways are neatly arranged for fast access. Endo-tracheal tubes, suction catheters, stylets, and ETCO2 meters may be stored in the middle section.
The StatPacks G3 Universal Cell is a simple EMS Bag that keeps your random supplies together and quickly accessible.
The unique foam molded design helps keep inside contents organized, at your fingertips, and protected from the elements.
Easy to open zipper position allows for quick access and ease.
For an EMS IV Kit, this foam-lined, roll style design helps keep IV therapies organized and at your fingertips. Drip sets, IV bag(s), catheters, needles and Start Kits are neatly arranged for fast access. It doubles as a pressure bag for rapid fluid infusion.
Holds everything you need for a quick IV setup in one convenient module. The IV Module makes it easy to share on multi victim accident scenes. This is a perfect accessory EMS IV Kit for any StatPacks main packs.