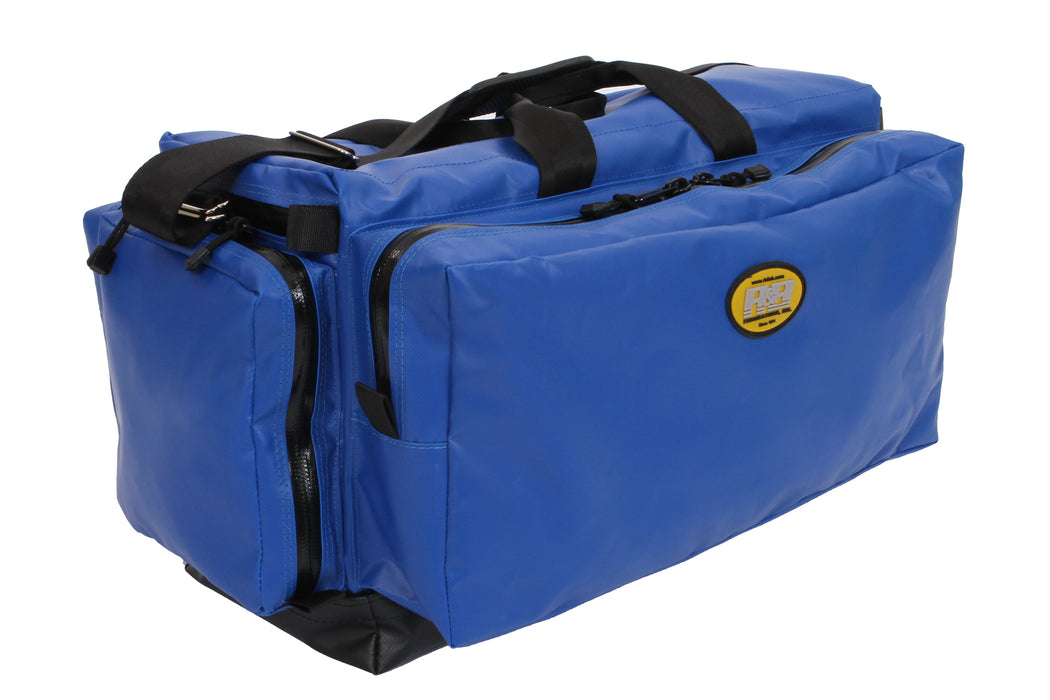 R&B Mega Medic Impervious Vinyl Trauma O2 Bag
Original price
$0.00
-
Original price
$0.00
Mega Medic's Vinyl Bag #RB A600X-RB-Vinyl
It's the highest quality impervious trauma/oxygen bag on the market. The outer shell is constructed of 22oz vinyl. The interior liner is constructed of nylon pack cloth and high-density foam for equipment protection and stability.
Dividers are fully adjustable and secured in place with hook and loop. Both the dividers and the liner may be removed for cleaning. Hand wash with mild soap and water, allow to air dry. Will hold a "D" or Jumbo "D" oxygen cylinder with access to the regulator through the end pocket.
The molded Tuff Bottom provides an almost indestructible base. Four outside pockets surround the main compartment. There are two pockets on the front that have multiple elastic loops and slot pockets. Inside the lid is a large zippered pocket. YKK #10 heavy-duty zippers are used throughout the bag.
The zippers are reversed to eliminate wear on the coil prolonging the life of the strongest zipper on the market. It comes with an adjustable nylon shoulder strap.
Color: Royal blue. Wt. 140 oz. Overall Dimensions: 27"L x 15"W x 12"H. Made in the USA
What Is A TUFF BOTTOM? 
A Tuff Bottom is a heated, compressed and molded sheet of high-density cross-link polyethylene foam - you might also know it as the stuff they make your shoe soles out of.
One piece molded high-density construction
Super durable and resistant to wear
Resistant to Petrochemicals and UV rays
Will not absorb liquids
Temperature range of -60°f to 175°f
How do you test a TUFF BOTTOM?
We started this process by contacting several testing laboratories and found that the cost to test was pretty outrageous and the terms used to describe the testing process was like reading a foreign language.
So after being discouraged with my initial test research, I got a brilliant idea. I figured there is nothing better than a real-world test to prove whether or not these new Tuff Bottoms could hold up in the field. What did I have in mind for a "real world test"? The first step was to fill the bag with 20 pounds of stone. Then I took a tow strap and attached the bag to the back of my H1 Hummer. So away I went; dragging the bag down the road behind me. I decided I better cover all the bases, so I made sure to drag the bag over asphalt, concrete and even gravel roads. Oh, these weren't freshly paved roads, but rather your typical Ohio back roads that are filled with potholes, cracks and fresh tar. I started off at about 20 miles per hour. To my amazement, the bag just kept sliding right along behind me. After about 10 miles of abuse, I got bored and decided to give the new Tuff Bottom the "real world test stamp of approval." The bottom line is the R&B Tuff Bottom is truly rugged. It's designed to take a beating and ask for more. So, next time you are looking for the most durable bag you can get your hands on, look for an R&B Tuff Bottom Bag! You won't be disappointed in your decision.

Ron Eakins
Vice- President
R&B Fabrications, Inc.