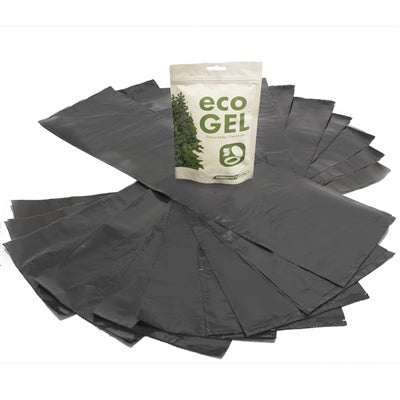 Eco Gel, Liner Refill Set
Sold out
Original price
$18.99
-
Original price
$18.99
Nature calls whether you are ready for it or not. Whether it's a disaster like earthquakes and hurricanes, a school lockdown, a family road trip, outdoor outing, or a backed-up sewage line there will be times when you will have to take care of business and flushing the toilet or digging a hole may not be feasible options. Eco Gel - Port-a-Potty Chemicals provides an easy, mess-free way to deal with these less-than-pleasant moments.
Eco Gel:
Instead of accidentally spilling some waste on yourself, use ECO gel. The waste gets solidified, leading to a mess-free disposal
Instead of dealing with digging a latrine, go the easy route. All you have to do is sprinkle one stick of ECO gel over the waste, which will treat from 1/2-1 GALLON* of liquid waste per stick. *Volume depends on desired consistency, add more as needed for completely solid gel.
Gels and solidifies liquid waste and deodorizes portable toilets
Pleasant lemongrass scent to help with odor
No harsh chemicals- safer for you and the environment
Directions:
Line toilet with a plastic liner. Shake each stick pack of Eco Gel before use to evenly distribute the gelling agent amongst the other ingredients.
Before using the toilet, sprinkle in some Eco Gel. Our recommendation is to add a bit of product before each use rather than adding an entire stick pack at once.
After use, let Eco Gel sit for a few minutes to solidify waste. If possible, introducing some agitation/movement (we do this by lightly shaking the portable toilet) to the liquid while it absorbs will help it to set more solid, as the more contact you can allow between the liquid and powder the better the reaction.
Remove the liner and dispose of waste, preferably in a biohazard bag.
Specs:
1x Pack of Eco Gel (contains 10 sticks)
10x Toilet liners