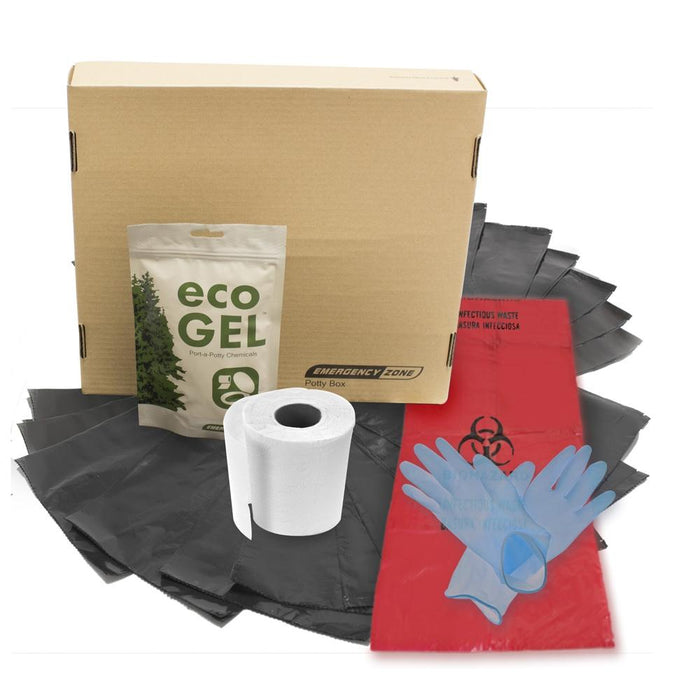 Potty Box - Complete Toilet Set
Sold out
Original price
$42.99
-
Original price
$42.99
Appropriate sanitation and hygiene is an often-overlooked aspect of emergency preparedness but proves to be of utmost importance in containing the disease and preventing water contamination. Be prepared for it all with this Potty Box Complete Toilet Sanitation Set, whether that is a backed-up sewage line, a school lockdown, or natural disaster. This kit includes everything necessary to set up an emergency toilet in your home, classroom, office or even while camping or hunting.
Potty Box:
Durable and heavy-duty, the collapsible potty box is made of triple-wall corrugated cardboard and engineered to hold 250 lbs.
The seat comes together in less than a minute with the easy to follow directions making it convenient while also being space efficient as it can fold back down to 3"x14"x16".
Eco Gel:
Instead of accidentally spilling some waste on yourself, use ECO gel. The waste gets solidified, leading to a mess-free disposal
Instead of dealing with digging a latrine, go the easy route. All you have to do is sprinkle one stick of ECO gel over the waste, which will treat from 1/2-1 GALLON* of liquid waste per stick. *Volume depends on desired consistency, add more as needed for completely solid gel.
Gels and solidifies liquid waste and deodorizes portable toilets
Pleasant lemongrass scent to help with odor
No harsh chemicals- safer for you and the environment