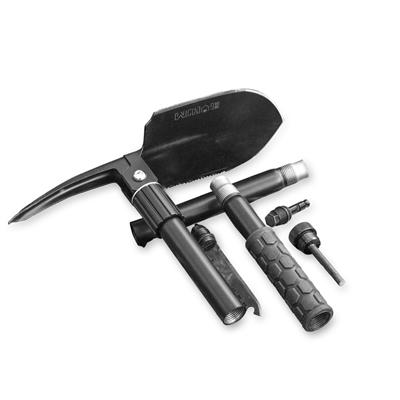 12-in-1 Folding Shovel
Original price
$24.99
-
Original price
$24.99
The beautiful thing about this survival tool is you can use it almost ANYWHERE! This AFFORDABLE tool can assist you in your garden, or when you are camping. Bring it with you when you travel or store an extra under the seat of your car. Disasters can happen anywhere at any time, and we want you to be PREPARED when a disaster does strike.
At Emergency Zone we know just how important your loved ones are to you. During the creation process of our Emergency Zone Brand products, you were at the center of it. We take pride in offering quality products at affordable prices to help individual and families have the security and the peace of mind of being prepared.
Features:
12-in-1 TOOL: This folding shovel is more than it appears, it is a shovel, hoe, serrated blade, pick, nail puller, bottle openers, a hatchet edge, a serrated edge, a blade, signal whistle, ferro rod, and a glass breaker.
COLLAPSIBLE and SAFE: We created our lightweight multifunction survival tool so it would be compact. This allows for easy storage. It is small enough that it can slip into your hiking pack, or under the seat of your car. In addition, the 12-in-1 tool comes with a convenient CARRYING CASE so you can safely take your tool with you. The case has belt loops so you can attach it to you or to MOLLE.
STAINLESS STEEL: The stainless steel is more durable than plastic or aluminum options, and light enough to still be a realistic option for your hiking pack. This 12-in-1 tool weighs less than 2 lbs.
19.5 INCHES: When fully extended this 12-in-1 tool is 19.5 inches long but folds down to a compact and easy to store 8 inches.
VERSATILE: This multitool was created to assist you in various situations. A grip has been added, to best help you when you are working. It is perfect for gardening, hiking, camping, a present for a loved one, an addition to your survival kit, or something to keep in your car as it has a glass breaking tool in case you need a quick escape.
Not only is its foldable shovel, but it is also a hoe, serrated blade, pick, nail puller, bottle openers, a hatchet edge, a serrated edge, a blade, signal whistle, ferro rod, and a glass breaker. This is no regular shovel. We wanted to make your life EASIER, so we combined 12 survival tools into one CONVENIENT folding shovel. In addition to the shovel, the tool also has:
Shovel
Hoe
Hatchet edge
Serrated Edge
Nail Puller
Pick
Serrated Blade
Bottle Openers
Blade
Signal Whistle
Ferro Rod
Glass Breaker