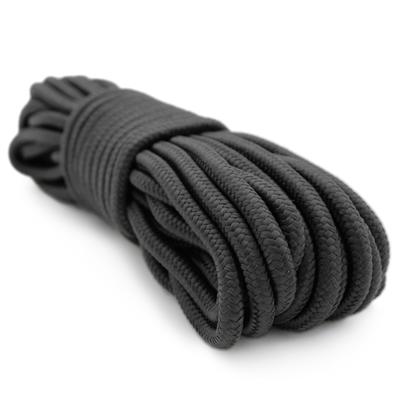 3/8 inch x 50' Rope, Black
Original price
$11.99
-
Original price
$11.99
Rope is a must have tool that should always be with you. Whether you are camping, hiking, driving, or trying to survive, rope is your best friend. It has uses from hanging clothes, to securing your shelter. This rope is LIGHTWEIGHT and easy to store. It is 3/8-inch braided NYLON to add that extra STRENGTH. There is no reason to not have this rope in your car, survival kit, or backpack. This rope is NOT suitable to be used as a climbing rope.

Features:
Strong and Powerful: Our rope might be LIGHTWEIGHT, but it is STRONG. It can be used for light to moderate weight objects. For added STRENGTH, this 3/8inch rope has nylon braiding around 4 inner nylon braided cords.
Expanding: With 50 feet of rope, so many things are possible. For the things that aren't, there is a simple to extend your rope. When strength isn't needed, the 4 inner cords can be removed to transform this 50-foot rope into a 250-foot rope.
Universal: Whether you love the OUTDOORS or prefer to INDOORS, this rope can be used to help SIMPLIFY your life. If you are hanging a clothesline, or if you are securing a shelter. Never be without your Emergency Zone Brand rope.
Be Prepared: If your shelter isn't tied down, don't be wishing you had this rope. Instead pull the rope out of your bag and be able to secure your shelter for a better night's sleep.