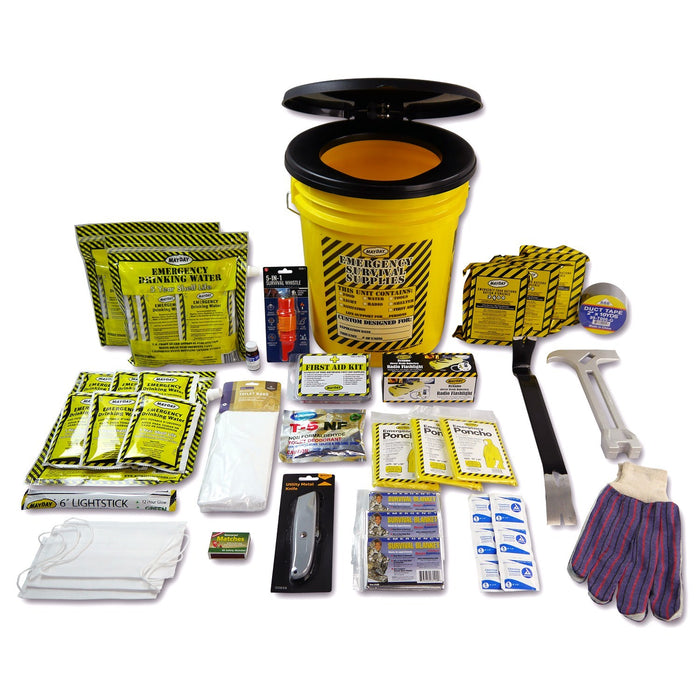 Mayday Deluxe Emergency Bucket Kit 3 Person
Original price
$169.92
-
Original price
$169.92
If recent events have taught us anything it is that we need to be prepared. Whether it be a natural disaster or civil unrest having a go-bag with the right essentials to ensure the safety of your family is critical. In the event of an emergency, you may find yourself in a situation where you must survive on your own for a few days. Having food, water, and supplies at the ready will prepare you for life's unexpected events. 
The MayDay Deluxe Emergency Bucket Kit is perfect for anyone looking to have all the essentials covered. This kit is ideal for various survival situations: Earthquake, Hurricane, Flood, Tornado, Natural Disaster 
SKU: MD-13038 |Weight 19 lbs.

Kit Contains:
1 - Honey Bucket with Toilet Lid
3 – 2400 Calorie Food Bars
3 – Solar Blankets
18 – Pouches of Waters
3 – Ponchos
1 – 12 Pack of Liners
6 – Wet Naps
1 - 12 Hour Light Stick
1 - T-5 Chemical Toilet Disinfectant
1 - Roll 10 yards Duct Tape
1 - Gas & Water Shut Off Tool
1 - 15" Pry Bar
1 - 54 Piece First Aid Kit
1 - Dynamo flashlight/Radio
1 - Pair Leather Palm Gloves
1 - Utility Tool
1 - 5 N 1 Whistle
1 - 50 – Water Purification Tablets
1 - 50 – Waterproof Matches