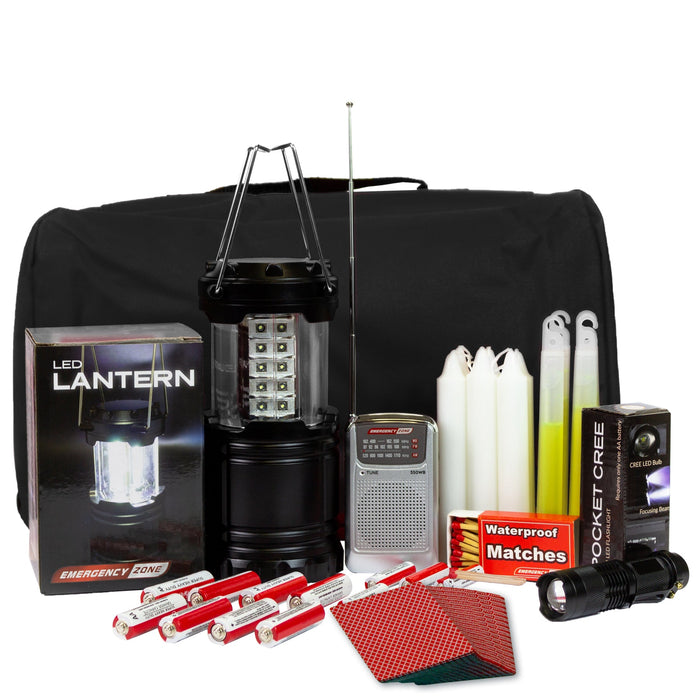 Deluxe Power Outage Emergency Kit
Original price
$0.00
-
Original price
$0.00
With the Deluxe Power Outage Emergency Kit, you will be prepared for natural and man-made disasters like hurricanes, the power grid failure, damaged power lines, construction, flooding, and winter storms.
During a power outage, it may be hard to find the necessary light and communication sources, but with this emergency kit, it will give access to 17 items to provide light, communication tools, and even entertainment, all stored in a single durable nylon pouch.
POCKET CREE MINI LED FLASHLIGHT: is equipped with 3 lighting modes (bright, dim, and strobe/SOS), allows you to focus the beam of light for a more direct light source, and has an attached clip.
COLLAPSIBLE LED LANTERN: can be set on nearly any surface or it can be hung. Simply pull the top of the lantern to expose the ultrabright LED light powered by 3 AA batteries.
AM/FM/WB RADIO: unlike other emergency kits on the market, this Deluxe Power Outage Kit comes with a weather band radio. During severe storms, it is vital to be able to get information that NOAA's national weather services provide.
Contents:
1x Durable Nylon Pouch
6x Candles
4x Light Sticks
2x Pocket CREE Mini LED Flashlight
2x Collapsible LED Lantern
1x Box of Waterproof Matches
1x AM/FM/WB Radio
1x Deck of Playing Cards