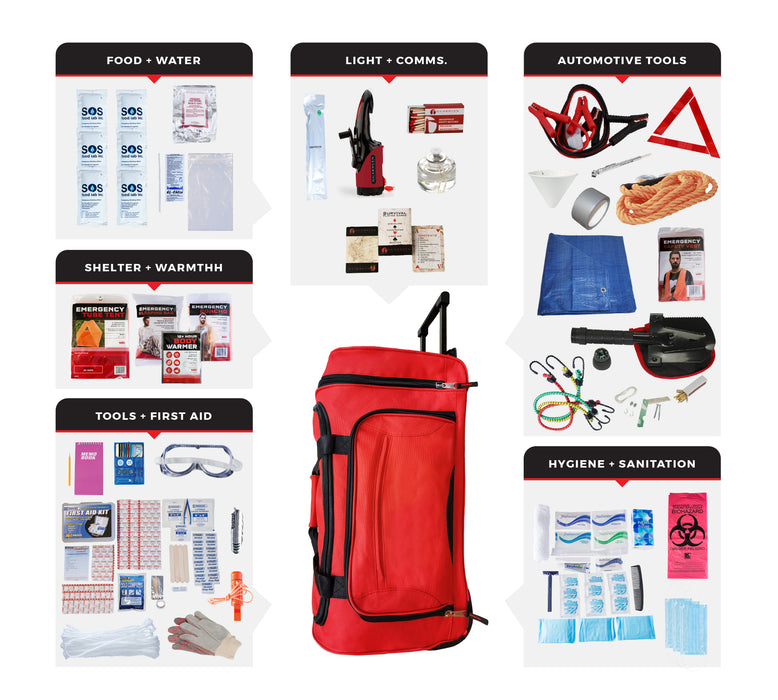 Guardian Emergency Auto Kit - Comfort Edition
Original price
$126.99
-
Original price
$126.99
Have you ever been stuck on the side of the road in the middle of nowhere with no cell service?   If you haven't, then your lucky.
Don't wait until you are stuck on the side of the road with no way to help yourself, wishing that you had made this essential purchase. This kit will arm you with the tools and resources necessary if you are stranded, have a drained battery, or if your car broke down.
This kit includes the following:
Food and Water: The food and water in this kit have a 5-year shelf life, and are meant to provide nutrition for 72 hours.
(1) 2400 Calorie Food Bar
(1) Hydration Kit with Water Purification Tablets
Tools and First Aid: These tools can be useful when you need help with navigation, transport, personal protection, or shelter. A  first aid kit can be used to treat minor injuries and protect against more serious health threats in a disaster.
(1) Deluxe First Aid Kit

(30) Adhesive bandages (1 ¾" x 3/8")

(35) Adhesive bandages (3" x ¾")

(10) Cotton tip applicators
(1) 5 in 1 Emergency Whistle
(1) Pair of Safety Goggles
(1) Multi Function Shovel
Light and Communication: These items can come in handy if you experience a home power outage, car trouble, or other emergencies.
(1) Deck of Survival Playing Cards
(1) Emergency Bright Stick
(1) Box of Waterproof Matches
Shelter and Warmth: These supplies will protect you from wind, sun, rain, and other harsh conditions.
(1) Emergency Sleeping Bag
Hygiene and Sanitation: Hygiene is important in a disaster; staying clean can protect against infection, disease, and depression.
(1) Deluxe Hygiene Kit

(1) 0.25 oz. Hand and Body Lotion

(1) 0.34 oz. Shampoo and Conditioner
(3) Disposable Face Masks

(1) Biohazard Waste Bag
Emergency Survival Kit Information:
This kit was designed using advice from experts in the field of emergency preparedness. It follows guidelines offered by government agencies and nonprofit preparedness organizations. 
"