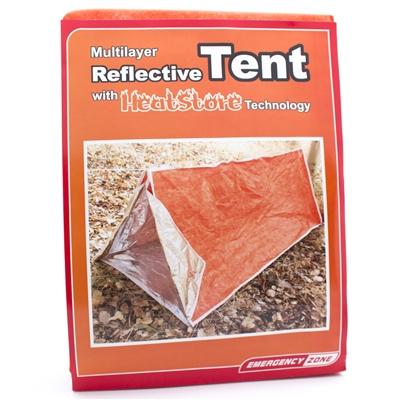 HeatStore Reflective Tent
Sold out
Original price
$24.99
-
Original price
$24.99
Hypothermia is one of the deadliest killers when you are trying to survive. Whether you got lost hiking, trapped by a snowstorm, or simply camping, your family deserves you to come home SAFE and ALIVE. We hope you are never in a situation where this is needed, but life is unpredictable. Disasters do happen. The best thing we can do is PREPARE for them.
Features:
Protection from Elements: Whether it is RAINING, SNOWING, or simply WINDY, this tube tent is there to HELP. This tube tent will help PROTECT you from the harsh ELEMENTS.
Superior Heat Retention: SLEEP and WARMTH are vital to our existence. A person can't last long in harsh conditions without protection. This THERMAL tube tent can reflect high amounts of body heat. The ORANGE exterior will make you more VISIBLE, and it helps ABSORB HEAT.
Durable: For a lifesaving tube tent, QUALITY matters. Our tube tent is created with a layer of thin non-woven nylon fibers. This makes it so the tube tent is both TEAR and PUNCTURE RESISTANT.
Size: Nothing is worse than having a tube tent that doesn't cover you. If you are facing hypothermia, you want your body covered. Have no fear, measuring in w a footprint of 36" x 82", and a height of 29", this is the tube tent that'll keep you COVERED and PROTECTED.
Weight and Noise: Your Emergency Zone HeatStore Survival Tube Tent is LIGHTWEIGHT, weighing in at 24oz! Sometimes noise is dangerous. Mylar tube tents crinkle, your Emergency Zone HeatStore Survival Tube Tent will crinkle less.
Closed Ends: Standard tube tents are open on both ends. This tent has one closed end and one end with flaps that can be tied closed. This not only protects from wind, but also conserves body heat.
Technical Specs:
Footprint: 36" x 82" (91 cm x 208 cm)
Height: 29" (74 cm)
Weight: 24 oz (675 g)
Color: Orange & Silver
Material: Aluminized PET & Non-woven nylon