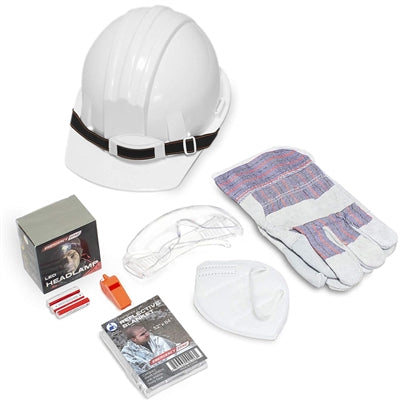 Personal Evacuation Kit
Sold out
Original price
$34.99
-
Original price
$34.99
Buildings crumble, families are separated, and help can seem like it will never come. While you can't control when or if an earthquake strikes, you can control what you do today. You deserve to have peace of mind, don't wait to get prepared.
Features
Safety: After an earthquake strikes, things like fires, flooding, and property/road damage are likely. You might be trying to get to an emergency shelter, or inspecting/fixing your home. This kit was designed with situations like this in mind. To make your journey and clean-up as safe as possible, you will find a hard hat, whistle, heavy-duty work gloves, safety goggles
Reflective Blanket: This kit includes an Emergency Reflective Blanket that is not only waterproof, but it is also windproof! This helps keep you warm, as well as stay dry. This 52" x 84" solar blanket retains high amounts of your radiant body heat! Helping keep you warm, and alive, in cold situations. When folded, this blanket is only 4.25" x 3" x0.5"! It weighs 1.8oz making it easy to carry!
Motion Sensor Headlamp: This headlamp has four different settings; CREE LED, red LED, flashing red lights, and off. It has the capability of moving up and down 90 degrees! This allows for greater visual capacity without being an inconvenience to you. The batteries are included, and the size is adjustable.
Earthquake Guidebook: We know survival is more than just tools and supplies, so we also include our Earthquake Emergency Preparedness Survival Guidebook that will supply the knowledge and confidence you need as well. In it you will find crucial survival information from how to create an emergency plan, to administering life-saving first aid, information about earthquakes and secondary disasters that can follow, the psychological effects, and so much more.
What's Inside
1x Hard Hat
1x Motion Sensor Headlamp
1x Reflective Emergency Blanket
1x Signal Whistle
1x Safety Goggles
1x Heavy Duty Work Gloves