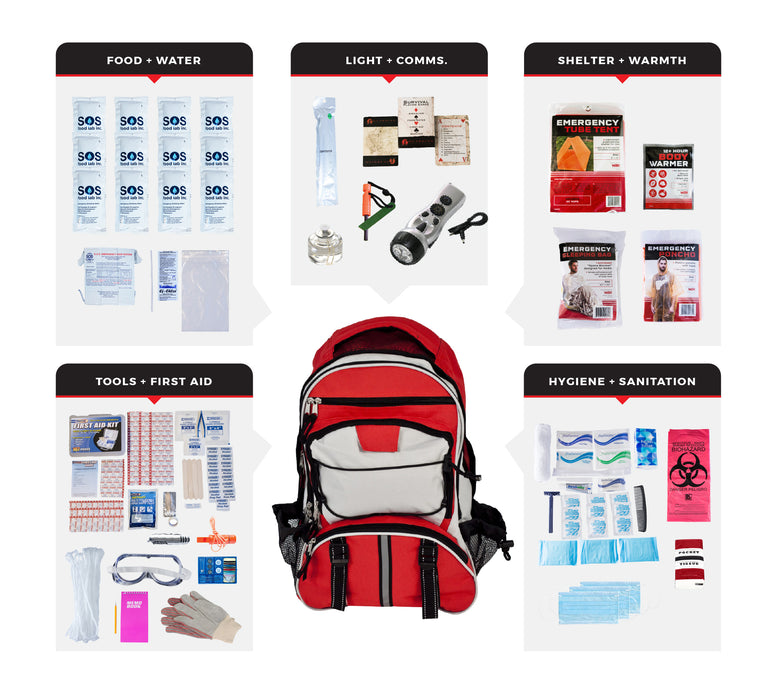 Guardian 1 Person Comfort Survival Kit
Original price
$134.99
-
Original price
$149.99
When disaster strikes will you be prepared?

This kit is ideal for families facing a variety of survival situations such as Earthquakes, Hurricanes, Floods, Tornados, and other Natural Disasters.

Whether it be a car accident, civil unrest, or a natural disaster, having the right supplies on hand can be the difference between life and death. In the aftermath of a natural disaster, it's not about the property damage; its if your basic human needs aren't being met while waiting hours or even days for help to arrive.
This kit includes the following:Food and Water:
The food and water in this kit have a 5-year shelf life, and are meant to provide nutrition for 72 hours.
(12) 4 oz. Water Pouches
(9) 400-Calorie Food Bars
(10) Water Purification Tablets - each tablet purifies 1 liter of water
(1) 1-Liter Hydration Bag with Straw
Tools and First Aid:
These tools can be useful when you need help with navigation, transport, personal protection, or shelter. A  first aid kit can be used to treat minor injuries and protect against more serious health threats in a disaster.
(1) Notepad & Pencil
(1) Deluxe First Aid Kit

(30) Adhesive bandages (1 ¾" x 3/8")
(35) Adhesive bandages (3" x ¾")
(15) Alcohol pads
(10) Cotton tip applicators
(1) Elastic bandage (2")
(4) Finger splints
(1) First aid guide
(2) Gauze pads (2" x 2")
(2) Gauze pads (3" x 3")
(2) Gauze pads (4" x 4")
(1) Instant cold pack
(1) Roll of gauze (2")
(1) Roll of tape
(1) Tweezers
(1) Reusable case

(1) 5 in 1 Emergency Whistle
(1) Nylon Rope
(1) Multi-tool
(1) Pair of Safety Goggles
(1) Small Sewing Kit
(1) Pair of Work Gloves
Light and Communication:
These items can come in handy if you experience a home power outage, car trouble, or other emergencies.
(1) Deck of Survival Playing Cards - 52 cards illustrating valuable survival skills that will educate and entertain you in an emergency
(1) 30+ Hour Candle
(1) Emergency Bright Stick
(1) 4 in 1 Dynamo Flashlight
(1) Flint Starter
Shelter and Warmth:
These supplies will protect you from wind, sun, rain, and other harsh conditions.
(1) Emergency Sleeping Bag
(1) Emergency Poncho
(1) 2 Person Tube Tent
(1) Hand/Body Warmer
Hygiene and Sanitation:
Hygiene is important in a disaster; staying clean can protect against infection, disease, and depression.
(1) Deluxe Hygiene Kit

(1) 0.25 oz. Hand and Body Lotion
(1) 0.34 oz. Shampoo and Conditioner
(1) Bar of soap
(1) Comb
(1) Deodorant Gel
(3) Maxi Pads
(1) Pocket Tissue Pack
(1) Shaving Cream Packet
(1) Toothbrush
(1) Toothpaste
(1) Toothpick
(1) Twin Blade Razor
(1) Washcloth
(3) Wet Wipes

(1) Pack of Pocket Tissues
(3) Disposable Face Masks
(1) Biohazard Waste Bag
Emergency Survival Kit Information:
This kit was designed using advice from experts in the field of emergency preparedness. It follows guidelines offered by government agencies and nonprofit preparedness organizations. 
"