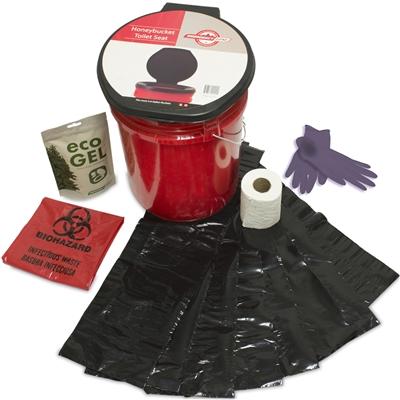 Honey Bucket-Complete Toilet Set
Sold out
Original price
$45.99
-
Original price
$45.99
Make camping, hiking, road tripping or any setting where modern conveniences are unavailable a more enjoyable experience with the Emergency Zone Honey Bucket Style Complete Toilet Set. This set includes everything you would need to ensure a mess-free, hygienic, and painless way to manage waste. Also, a great option to keep at home in case of emergencies such as plumbing issues, backed-up sewage lines, or survival situations.
Features:
EASY: There is no need to dig a latrine. In a survival situation, there are more useful things to do with your time!
CONVENIENT: Since this toilet kit is lightweight, you can take it anywhere! Whether you are camping, hunting, or surviving a natural disaster, you can still have the luxury of a toilet.
ENVIRONMENTAL: The toilet seat is removable, which makes for easy storage and clean up.
HELPFUL: Liners, non-powdered nitrile gloves, and biohazard waste bags allow disposal to be sanitary and pain-free.
Eco Gel Features:
Instead of accidentally spilling some waste on yourself, use ECO gel. The waste gets solidified, leading to a mess-free disposal
Instead of dealing with digging a latrine, go the easy route. All you have to do is sprinkle one stick of ECO gel over the waste, which will treat from 1/2-1 GALLON* of liquid waste per stick. *Volume depends on desired consistency, add more as needed for completely solid gel.
Gels and solidifies liquid waste and deodorizes portable toilets
Pleasant lemongrass scent to help with odor
No harsh chemicals- safer for you and the environment
Toilet Seat Features:
Fits most 3, 5 and 6--Gallon pails
Lightweight, so you can easily carry it to any location
Use for camping, hunting, emergencies or anyplace away from modern conveniences
Contents:
1x 5 Gallon Bucket
1x Honey Bucket Toilet Seat/Cover
1x Pack Eco Gel (10 pouches, each treats up to 1/2-1 gallon)
1x Roll of 10 Liners
1x Biohazard Bag
1x Nitrile Gloves
Toilet Seat Directions:
To place, start from the back of the toilet seat, just above where the lid meets the rim.
Push down firmly, keeping that hand in place on the back while you move around the circumference of the seat with the other, pushing straight down as you go.
Upon first use, the toilet seat may be rigid and harder to place, but with each application becomes more flexible
Eco Gel Directions:
Line toilet with a plastic liner. Shake each stick pack of Eco Gel before use to evenly distribute the gelling agent amongst the other ingredients.
Before using the toilet, sprinkle in some Eco Gel. Our recommendation is to add a bit of product before each use rather than adding an entire stick pack at once.
After use, let Eco Gel sit for a few minutes to solidify waste. If possible, introducing some agitation/movement (we do this by lightly shaking the portable toilet) to the liquid while it absorbs will help it to set more solid, as the more contact you can allow between the liquid and powder the better the reaction.
Remove the liner and dispose of waste, preferably in a biohazard bag.
Caution:
Avoid contact with eyes, skin, and clothes
Harmful if swallowed
Eye contact: Flush eye with water for at least 15 minutes
Skin contact: Wash with soap and water. Remove any contaminated clothing.
Ingestion: Contact Poison Control