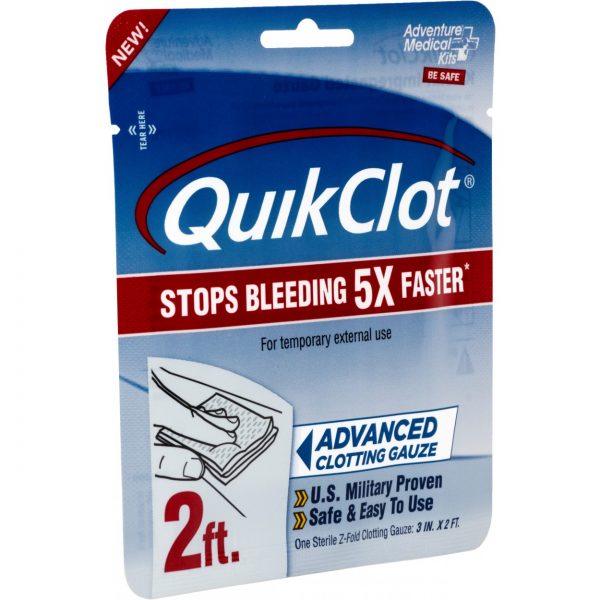 QuikClot Advanced Clotting Gauze, 3 Pack 3" x 24" Hemostatic Gauze
Original price
$54.99
-
Original price
$54.99
With QuikClot Advanced Clotting Gauze, you have the power to stop bleeding in the palm of your hand. Tested and proven through years of combat use by the U.S. Military, QuikClot can be depended on to save time when every second counts. The hemostatic gauze works on contact to stop bleeding by accelerating your body's natural clotting process, clotting blood five times faster.
Your order contains three individually wrapped gauzes impregnated with kaolin, a naturally-occurring mineral proven to be effective as a hemostatic agent.
Inorganic and inert, kaolin is non-allergenic, making it safe and effective to use. QuikClot's extremely absorbent gauze is flexible and pliable, easily contouring to wounds. Make QuikClot a part of your trauma pack or first aid kit so you're prepared when emergencies occur.
First Aid Hemostatic Gauze
STOP BLEEDING FAST: Control bleeding with QuikClot, the hemostatic gauze that works on contact with blood to stop bleeding five times faster. The gauze is impregnated with kaolin, a naturally occurring mineral that accelerates your body's natural clotting process.
TRUSTED BY PROFESSIONALS: Choose the hemostatic agent that is recommended by TCCC (Tactical Combat Casualty Care) guidelines for use by all 5 branches of the US military. QuikClot has proven its effectiveness over years of combat use by the US military.
SAFE & EFFECTIVE: Apply QuikClot Gauze without fear. Kaolin is an inert, non-allergen mineral demonstrated to be an effective clotting agent that contains no botanicals and no animal or human proteins.
EASY TO USE & REMOVE: Act quickly and with confidence in emergencies. QuikClot Clotting Gauze easily conforms to wounds – simply apply the gauze to the source of the bleeding and apply pressure. The gauze is easy to remove from the wound for further treatment by medical professionals.
3-PACK: Be prepared to stop bleeding wherever you go. This lightweight, extremely compact package contains three individually packaged strips of QuikClot gauze (3" x 24"). Add QuikClot to your trauma kit, glove box, emergency medical kit, range bag, first responder kit, purse, or first aid kit.